HumRRO Principal Scientist, Shane Pittman, Ph.D., was honored with the prestigious Stephen E. Bemis Memorial Award at the International Personnel Assessment Council Annual Conference last week in San Diego.
"I am honored to join the ranks of other HumRRO employees, Deborah Whetzel, Dan Putka, and Deborah Gebhardt, in receiving this award," said Pittman.
Whetzel nominated her colleague because of the many ways in which she embodies the Bemis Award. The Bemis Award recognizes an individual who is:
An accomplished personnel measurement practitioner, recognized for their ongoing commitment to the principles of merit and fairness.
A professional who has made an impact in the field by their practical contribution(s) that have either resulted in an improved or new procedure.
A concerned individual who is recognized for their commitment to assisting, being available, and freely calling on fellow practitioners.
As a principal scientist at HumRRO, Pittman's primary areas of expertise in human resource development and assessment include job analysis, selection processes, high-stakes testing, training, organizational analysis, barrier analysis, and survey research. She joined HumRRO in 2019 when it acquired The Pittman McLenagan Group, a consulting firm she co-owned and led with her husband and business partner, Mike McLenagan, for more than 25 years. PMG specialized in custom assessments, primarily in the public safety arena, for police, corrections, sheriff, and fire/EMS.
In supporting her nomination for the Bemis Award, HumRRO Vice President Cheryl Paullin, Ph.D., wrote, "Throughout her career, Shane has developed and applied best practices in the hiring and promotion processes for dozens of local, county, and federal public safety agencies. She ensures that each promotional process is standard, unbiased, and fair. For executive-level positions, she strongly pushes for community input in making decisions, in addition to the in-depth assessment process that she designs and personally executes."
Paullin also noted that Pittman incorporates the concept of unconscious bias in training for public safety personnel who evaluate candidate performance on assessment exercises. "Shane cares deeply about ensuring fairness, equity, and inclusion in all personnel practices, including in our organization," Paullin wrote. Pittman leads several organization-wide initiatives within HumRRO to foster diversity, equity, inclusion, and accessibility (DEIA).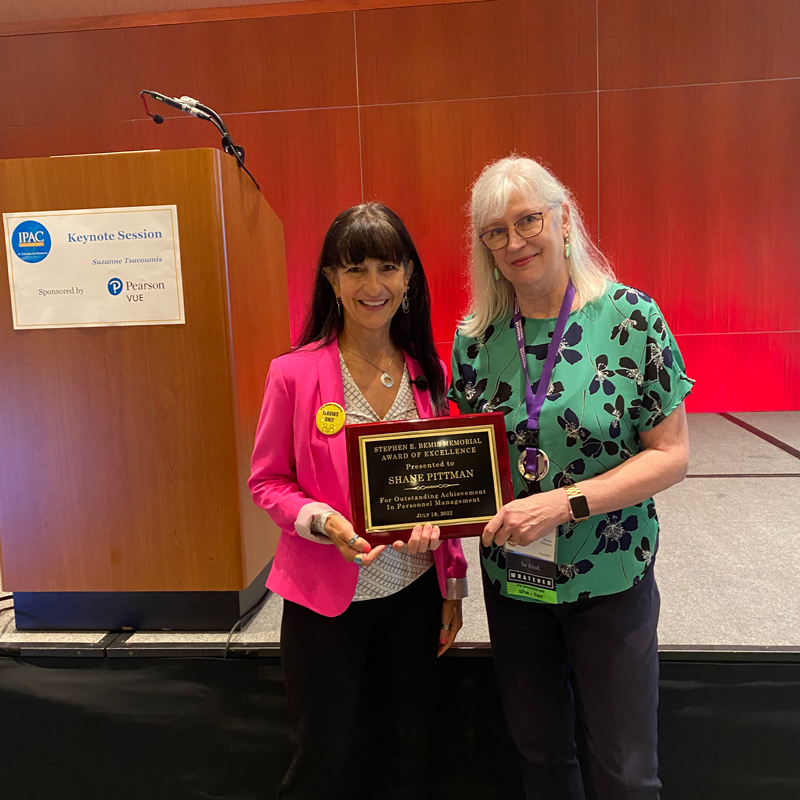 Shane Pittman (right) poses with Suzanne Tsacoumis after receiving the 2022 Bemis Award


There is no doubt that Shane has had a significant impact on our organizational culture as well as the work lives of many of those in our field. She is so deserving of this award


— Suzanne Tsacoumis, Ph.D.,
President and CEO of HumRRO
For more than 25 years, Pittman established herself as an expert in assessment and talent management, particularly in the public safety environment, where she has led projects to design and deliver entry-level and promotional testing for police, corrections, sheriff, and fire/EMS. She has created both video-driven and real-time implementation approaches and a wide range of assessment tools such as in-basket, role play, presentation, supervisory and operational exercises, personality testing, physical ability testing, and knowledge exams.
Pittman has worked with a large federal agency under a consent decree to change their hiring processes to promote greater validity, accuracy, and fairness. She helped identify new processes, including the use of anonymous and structured approaches. Pittman emphasized the need to ensure assessors are highly trained with a focus on identifying and mitigating implicit bias and understanding the need for structure. These methods increased the department's levels of diversity dramatically.
She has been on the forefront of developing assessor training that includes an interactive approach to educate assessors about the value of a highly structured assessment process, including activities such as video examples of bias, quizzes on process content, and various group exercises to develop cohesion among assessors.
Pittman conducted a gap analysis for the entry level firefighter selection process at a city fire department for the purpose of identifying areas where diversity was impacted. Various areas were identified for improvement including 1) scoring a written exam as pass/fail, 2) integrating a non-cognitive component into the exam, 3) modifying marketing content, 4) recommending diversity on interview panels and building more structure into the process, and 5) having a task-based physical ability test.
Working with Prince George's County in Maryland, Pittman developed and conducted an implicit bias workshop for judges where they were able to identify specific actions they could apply on the job.
Pittman's expertise and reputation led to her appointment as expert to the Special Master of the Fire Department of New York (FDNY) and later, the Court Monitor. In these roles, Pittman oversaw the work of a large and well-known consulting firm as they developed and administered an entry-level fire fighter process and monitored the efforts of all involved experts. The initial administration of this test resulted in the most diverse academy class FDNY has seen.
"I have enjoyed the privilege of working with Dr. Shane Pittman for many years now," noted a deputy chief in a Virginia Fire and Rescue Department. "Throughout these journeys, Dr. Pittman's focus on the principles of equity, fairness, inclusion, transparency, legal compliance, and quite simply just 'doing the right thing' has resulted in processes that are effective, efficient, and highly valued by our leadership and personnel that are directly affected by these processes."
A longtime federal government client added: "One of the primary reasons the Department partnered with Dr. Pittman was because of her reputation for ensuring a promotion process that could be conducted in a fair, impartial, and statistically supportable manner. As with many institutions, employees can develop perceptions that opportunities for professional growth are geared toward interpersonal relationships, and, on some occasions, impacted by biases. Dr. Pittman's efforts have broken down these employee perceptions. She has established a repeatable model that has built trust and transparency within the Department, resulting in a steady increase in the number and diversity of participants as well as the level of diversity among the organization's supervisory ranks."
"Shane's intense focus on assessment fairness and client/examinee perception of fairness will always be the foundation for our work," said Rob Minjock, Ph.D., senior scientist, who came to HumRRO with the PMG acquisition and has continued working with Pittman to develop interactive, technology-rich solutions at HumRRO.
Clients and colleagues noted Pittman's positive influence as a model scientist-practitioner, organizational citizen, and team player.
"Shane is the exemplar coach, mentor, and collaborator; someone who seeks and creates opportunities to develop and guide junior practitioners," added Tsacoumis.
One of her mentees, Kriste Buchanan, test development specialist at HumRRO, said, "Shane always led by example and worked collaboratively with her team and clients. She exemplifies a practitioner who is committed to the principles of merit and fairness. I've seen her become a trusted advisor to clients and be a go-to expert on fair testing practices. She is devoted to mentoring her team members and helping them develop their technical and consulting skills on a daily basis. One example that has stayed with me is a saying that Shane has related to change management: 'Gentle pressure, relentlessly applied.' This strategy applies to many facets of both professional and personal life."
In addition to her professional accomplishments, Pittman has been involved as member, leader, or presenter in the American Psychological Association, Society for Industrial Organizational Psychologists, Blacks in I/O Psychology, IPAC, International Personnel Management Association, Personnel Testing Council of Metropolitan Washington (president, 2000) and the Society for Personality and Social Psychology.