HumRRO is proud to announce Chen Tang as this year's recipient of the Meredith P. Crawford Fellowship. Tang is a doctoral student in Human Resources and Industrial Relations at the University of Illinois at Urbana-Champaign's School of Labor and Employment Relations.
Named in honor of HumRRO's founding director, the Meredith P. Crawford Fellowship is one of the most prestigious awards, granting a non-renewable $12,000 stipend, in the fields of human resources and organizational behavior. Since 1998, HumRRO has selected a doctoral candidate annually in I-O psychology or closely related discipline who demonstrates exceptional research skills, academic achievement, and professional productivity.
In selecting Tang this year, the selection committee noted his "published peer-reviewed articles and his impressive slate of manuscripts in advanced stages of the review process with high-impact I-O psychology journals—all of which are well-poised to make meaningful impacts on the field." In addition, Tang received exceptional recommendations, has won awards for his research from his doctoral program and from the International Personnel Assessment Council (IPAC), and he has already begun to distinguish himself as an excellent instructor in addition to demonstrating great promise as a researcher.
"Recognizing upcoming researchers for their talent and potential to impact the field is one of the most important and rewarding things we do at HumRRO," said Suzanne Tsacoumis, Ph.D., president and CEO of HumRRO. "Chen encompasses all the attributes we look for when awarding the Fellowship, and we are excited about his research focus on maximizing validity and minimizing adverse impact in the selection process."
Tang's dissertation blends his interest in Pareto optimization with his interest in machine learning to delineate the conditions under which applied psychologists would be best advised to develop Pareto solutions based on local evidence, meta-analytic evidence, an empirical-Bayesian blend of local and meta-analytic evidence, or a machine learning-driven estimation procedure.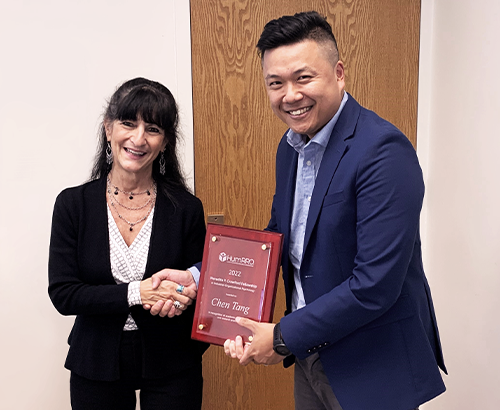 Suzanne Tsacoumis presented Chen Tang with the Crawford Fellowship Award on behalf of HumRRO.
"The Meredith P. Crawford Fellowship is one of the most renowned and competitive fellowships in human resources and organizational behavior," said Tang. "It is a great honor for a graduate student to receive this fellowship. I feel motivated to be among the previous recipients, who have been my role models."
One of those previous recipients is Q. Chelsea Song, who is now an assistant professor in the Department of Psychological Sciences of the College of Health and Human Sciences at Purdue University. In her letter recommending Tang for this year's fellowship, she wrote: "Chen is leading a promising line of research aimed at advancing machine learning applications in organizational practice."
Tang plans to use the Fellowship stipend to cover costs associated with the technology necessary to conduct his research, which primarily uses Monte Carlo simulation. "I am proud that my research is part of this effort in society to promote diversity and inclusion, and I thank HumRRO for their generosity in helping me pursue this goal," he said.
In addition to HumRRO, Tang would like to thank his mentors and collaborators, Daniel A. Newman, Fritz Drasgow, James Rounds, Q. Chelsea Song, and Serena Wee.
Applications for next year's Meredith P. Crawford Fellowship will open April 2023.