For a profession that relies on data and applied research, Bethany Bynum, Ph.D., manager at HumRRO, may be proof-positive that you can make a huge impact in a short period of time in the industrial-organizational psychology field.
For her work in educational testing, workplace selection, and performance assessment, she was recently recognized with the Distinguished Early Career Contributions-Practice Award by the Society for Industrial and Organizational Psychology (SIOP). The annual award is given to a SIOP member who has made significant contributions to the industrial-organizational psychology profession within 10 years of earning their Ph.D.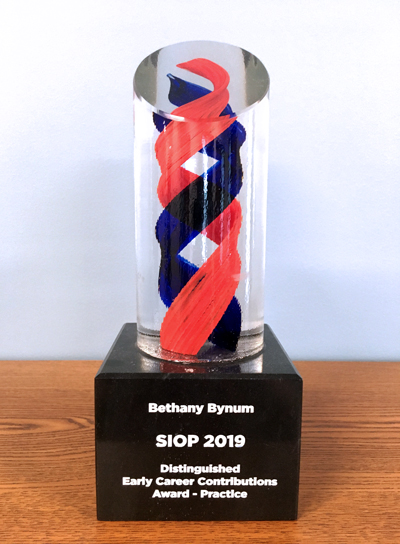 The awards committee evaluates the following criteria:
The breadth or depth of the nominee's contributions.
The extent to which the nominee's work is grounded in sound psychological research.
The status of the nominee in the estimation of other prominent early career practitioners.
The impact of the nominee's work on the broader field.
For the past 10 years, Bynum "has made extraordinary contributions in diverse areas including education, credentialing, industry, and military testing and selection," the SIOP awards committee wrote.
I-O/Education Integration
Bynum has achieved these extraordinary contributions because of the diversity of projects she has worked on at HumRRO and her ability to integrate best practices from education psychometric work and more traditional I-O psychology.
"I was able to get to this point of my career because of many mentors and because HumRRO gives me the opportunity to move between both spaces and to take on leadership roles within projects for diverse clients," she explained. "I've had the opportunity to work on several high-stakes, high profile assessments in education, the private sector, and for the Army so my work has reached a large cross-section of diverse groups."
Moving seamlessly from public to private sector clients and from education psychometric projects to traditional I-O work allows Bynum to learn and share best practices from each.
For example, Bynum brings her I-O experience in assessing impact and providing practical implications to her education quality assurance projects. Conversely, she integrates quality assurance best practices internally to her I-O projects. Bynum recently applied her experience in education using item response theory (IRT) analysis to the scoring of situational judgment tests in a traditional I-O project.
"Her clients know that she comes from an I-O rather than educational testing background, and they see how her orientation to measurement and her associated conceptual and quantitative skills bring value to their programs that is missing from traditionally trained psychometricians," said Deirdre J. Knapp, Ph.D., principal scientist at HumRRO.
Bynum credits the "HumRRO model" of integrating staff in these two program areas as a competitive advantage benefiting all clients. "HumRRO is unique in that we are an assessment organization working in these two areas—education and I-O psychology—where staff can overlap because the underlying assessment principals are the same," she explained. "If you need psychometric expertise in developing a hiring assessment, we can provide that integration."
Bynum has contributed her deep expertise in psychometric support to high stakes testing programs for professional certification and K-12 Education, where she serves as an excellent ambassador for I-O psychology.
In addition to various special studies investigating issues related to computer disruptions, cheating, and other complications associated with operational tests, Bynum has run calibration and equating analyses on over 300 assessments in seven states impacting more than 10 million students. She has been the lead analyst in most of this work.
"Beth uses a combination of her training, experience, and creative problem solving to help Minnesota craft effective solutions to often vexing assessment challenges for which there are no 'textbook' answers," wrote Gregory J. Cizek, Ph.D., a member of the Minnesota Department of Education national Technical Advisory Committee (TAC) for student assessment programs and the Guy B. Phillips Distinguished Professor of Educational Measurement and Evaluation at the University of North Carolina.
In endorsing Bynum for the award, Paul R. Sackett, Ph.D., the Beverly and Richard Fink Distinguished Professor in the Department of Psychology at the University of Minnesota, wrote, "The work [she is assigned] is often commonly presented as a problem with no currently known solution, and Beth is tasked with finding one. I find myself watching in awe and admiration as she comes through time and time again."
Bynum possesses a degree of quantitative expertise usually found only among academics. She has co-authored eight journal articles, serves on the editorial board for the Journal of Business Psychology, and served on the SIOP Professional Practice Committee.
While Bynum has a passion for conducting quantitative analyses, going beyond that step is what elevates her work. "You can't live in a box and only run analyses," she explained. "You can manage data and crunch numbers, but if you don't participate in designing the project or discussing with clients what they want from the project, then you won't have context for running the analyses and interpreting the results."
Bynum added that to collect the best data available and conduct the most informative analyses for the client, researchers need to contribute to the conversations at the beginning of projects when the team is determining the questions and how to collect data.
Bynum looks forward to the next 10 years of integrating the work of her diverse projects at HumRRO and teaching the next generation how to build a career that has a lasting impact on the clients and the people they serve.