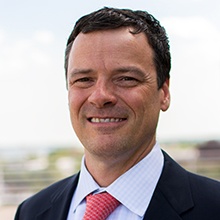 Senior Staff Scientist
Dr. Kevin Bradley has over 10 years' experience as an external and internal consultant to numerous large-scale licensure, certification, and educational/university admissions testing programs. His primary areas of research and experience are in strategic planning, development, and administration of certification and licensure testing programs (including program planning, job/practice analysis, test/assessment development, form assembly and equating, and test scoring and score reporting).
Dr. Bradley also has extensive experience in entry-level and promotional testing/assessment in the recruitment and staffing arenas. In this capacity, he works with human resource and talent management professionals to evaluate their current assessment programs; plan, develop, and implement new procedures; and conduct validation studies using a full complement of approaches (e.g., content-related, criterion-related, transportability). Dr. Bradley is a member of and active committee participant with several professional associations that focus on certification, licensure, and talent management research and practice. He holds a Ph.D. in Industrial/Organizational Psychology from Virginia Tech, and an M.S. in I/O Psychology from Rensselaer Polytechnic Institute.